Online passport photo
Did you know that you can create your own passport photo online?All you need is a digital camera. Take a photo of yourself and upload it to our website. Our website uses face detection to set the exact cut size. If you are not satisfied with the automatically set head size in the photo, you can easily change the crop area. Using our website you can create passport and ID photos for more than 70 countries.
Upload a photo >>>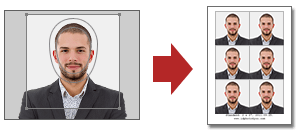 Crop 2x2" size passport photo
What size is a passport photo in pixels?
Size (cm)
Size (inches)
Size (pixels)
(300 dpi)
5.08x5.08 cm
2x2 inches
600x600 pixels
3.81x3.81 cm
1.5x1.5 inches
450x450 pixels
3.5x4.5 cm
1.38x1.77 inches
413x531 pixels
3.5x3.5 cm
1.38x1.38 inches
413x413 pixels
3x4 cm
1.18x1.57 inches
354x472 pixels
5x7 cm
1.97x2.76 inches
591x827 pixels
3.3x4.8 cm
1.30x1.89 inches
390x567 pixels
Common passport photo sizes
The most used sizes are: (2 x 2") and (3.5 x 4.5 cm).
| | |
| --- | --- |
| | |
| | |
| 413 x 531 pixels (300 dpi) | 600 x 600 pixels (300 dpi) |