Editing the photo
A rectangle shaped crop frame appears on the preview of the uploaded photo. In case of successful face detection, the crop tool is adjusted to the face on the photo. If face detection was not successful or if you are not satisfied with the result, adjust the crop tool to the head as follows:
Adjust the bottom green rectangle to the chin.
Align the upper green rectangle to the top of the head.
You can move the crop frame with the move buttons.
You can resize the crop frame with the scale buttons.
When you have finished editing click on the Make Photo button.
Photo Editor
Adjust the crop frame manually. You can move and resize the crop frame with the editing buttons.
Elements of the photo editing interface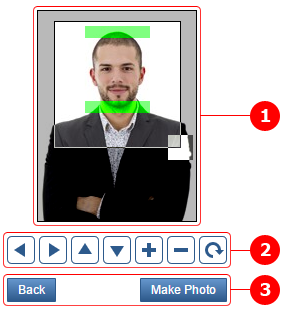 Preview
Editing buttons
Navigation buttons
Elements of the preview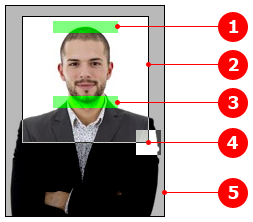 Crown rectangle
Crop frame
Chin rectangle
Resize holder
Uploaded photo
Editing buttons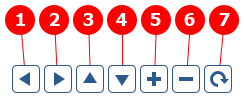 Move left
Move right
Move up
Move down
Scale up
Scale down
Rotate photo by 90°
Navigation buttons
There are two buttons at the bottom of the Editor interface. Click on the back button to go back to the previous page. You can finalize the crop settings with the "Make Photo" button. Clicking on this button to go to the download page from where you can download your passport photo.